Your vacation home
in Maranza
Welcome to your holiday apartment in Maranza. In our newly remodelled (winter 2019) vacation house in Maranza, all your holiday dreams come true: Enjoy the unique view from the large balcony of your apartment and take advantage of our central, yet quiet location. Our five apartments all have a panoramic balcony, and the cable car and ski lift are within walking distance. Grab your skis and take advantage of the unique location of the Apartments Morans.
Our holiday apartments in Maranza are equipped with everything you need for your vacation in South Tyrol: A kitchenette with oven, dishwasher and microwave, as well as a sauna and infrared cabin in our suites. You may park your car right in front of the building, where you may also relax in the spacious sunbathing area. And if you need some sunscreen or want to enjoy a small snack or a delicious ice cream, you may reach different shops and bakeries within a few minutes from your holiday apartment in Maranza.
We wish you a great stay at the Apartments Morans!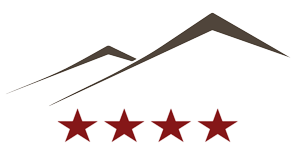 61 sqm for 4 - 6 people | details
Our Apartment Seefeld (61 sqm) offers space for up to 6 persons in 2 bedrooms. The spacious living room invites you to relax and the open kitchen features a hob, an oven, a microwave, a coffee maker and a kettle to try new, regional recipes. All ingredients can be bought in the nearby shops, which are within walking distance. Enjoy your South Tyrolean cooking with a wonderful view of the South Tyrolean highlands and the mountains of the Dolomites. This unique ambiance makes your holiday in the Apartment Seefeld unforgettable!
Floor plan
Price list
Inquire now
38 sqm for 4 people | details
Our Apartment Altfasstal is our most romantic apartment. With 38 sqm, the Apartment Altfasstal offers space for up to 4 persons. A bedroom invites to cuddle and relax, and the large balcony turns into a romantic spot in the evening. Enjoy a romantic candlelight dinner or just a glass of wine and be enchanted by the view of the alpine region Gitschberg / Val Giovo, the Brenta Group, the Stubai Alps and many other surrounding mountain peaks. Of course, the apartment is equipped with everything you need for a carefree holiday: a bathroom with shower and towels, a quiet and relaxing bedroom with bed linen, a fully equipped kitchen, and free Wi-Fi.
Floor plan
Price list
Inquire now
56 sqm for 4 people | details
Enjoy a truly relaxing vacation in our Apartment 'Klein Gitsch': 56 sqm in size, on the first floor and equipped with balcony – Here, up to 4 persons may enjoy wonderful views of the rustic alpine huts and deep blue mountain lakes above Maranza. Relax in the cuddly bedroom or taste our crispy bread rolls at the breakfast table of the fully equipped kitchen. The bathroom with shower, toilet, sink and bidet is also equipped with towels. Look forward to a carefree vacation in the apartment 'Klein Gitsch' in Maranza.
Floor plan
Price list
Inquire now
86 sqm for 4-6 people | details
Our 86-m2 Suite Gitsch is located on the second floor. With 2 bedrooms, our luxurious suite sleeps up to 6 persons, who wish to spend a cosy vacation. Enjoy the views from the balcony to the surrounding majestic peaks of the Ötztal Alps or use the private sauna of your suite for an invigorating sauna infusion. Our playground, the large sunbathing lawn and the proximity to the ski slopes in winter complete your stay in our Suite Gitsch and make our accommodation in Maranza the perfect destination for your next holiday with the entire family.
Floor plan
Price list
Inquire now
93 sqm for 4-6 people | details
Spend your next family vacation in Maranza in our Suite Feldspitz in Maranza. Our suite (93 sqm) features: sauna, infrared cabin, fully equipped kitchen, two bedrooms sleeping up to 6 persons and a bathroom with window. Of course, our Suite Feldspitz also has a balcony with a magnificent view over the UNESCO World Heritage Dolomites and the Zillertal and Ötztal Alps. Here, you may enjoy hiking, skiing, tobogganing, biking and much more. Our in-house gym and the Almencard Plus complete our offer for your dream vacation.
Floor plan
Price list
Inquire now
Price list
Conditions & services included
Winter 2022/2023
Period
Winter
Spring
09.01.23-17.02.23
26.02.23-07.04.23
Christmas
07.12.22-08.01.23
18.02.23-25.02.23
Apartment Seefeld
239,00 €
289,00 €
Apartment Altfasstal
199,00 €
229,00 €
Apartment Klein Gitsch
199,00 €
229,00 €
Suite Gitsch
299,00 €
36900 €
Suite Feltspitz
299,00 €
369,00 €
Summer 2023
Period
Spring
Late autumn
20.05.-28.05.23
02.10.-04.11.23
Early summer
Autumn
29.05.-02.07.23
11.09.-01.10.23
Summer
Early autumn
03.07.-28.07.23
21.08.-10.09.23
Late summer
29.07.-20.08.23
Apartment Seefeld
199,00 €
239,00 €
289,00 €
310,00 €
Apartment Altfasstal
169,00 €
179,00 €
199,00 €
220,00 €
Apartment Klein Gitsch
179,00 €
189,00 €
199,00 €
229,00 €
Suite Gitsch
305,00 €
289,00 €
310,00 €
350,00 €
Suite Feltspitz
299,00 €
279,00 €
299,00 €
350,00 €
Since December 2019, Moran's apartment has shone in new splendour. Look forward to light-flooded, modern apartments. Secure your dream holiday now!
Price conditions and discounts
The prices apply per apartment and night for 2 adults and 2 children with a minimum stay of 3 nights. For each additional person we charge 20,00 € per night.
Inclusive services for your well-being holiday
Included in the price:
Electricity, heating and final cleaning
all laundry for the room, bathroom and kitchen
Dyson vacuum cleaner
free towel change
WLAN
satellite TV
radio
Infant equipment (travel bed and table seat)
New: Almencard plus
The amount of local tax is calculated based on the municipal regulation at the time of the stay (Januray 2018: 1,70 Euro per day and person above 14 years of age).
Pets
Pets are only allowed upon agreement. Price: on request.
Terms of payment

Deposit: We are happy to receive written reservations via e-mail. The reservation is valid as soon as the deposit of 150 € has been paid. Please state your name as reason for transfer.
Bank: Raiffeisenkasse
Account holder: APARTMENTS MORANS KG der Barbara Klammer
IBAN: IT 37 D 08295 58760 000302005379
SWIFT- BIC: RZSBIT21250
The deposit will not be refunded in case of cancellation. The cancellation conditions below also apply.
Payment:  Please pay cash on site.
Arrival and departure
Arrival: On arrival day, we expect you starting from 15 o' clock.
Departure: On departure day, please leave your holiday apartment not later than 10 o' clock. Other times are possible upon request.
Exclusion of liability

We strive to provide accurate and complete information on this website. However, we assume no liability or guarantee for the topicality, correctness and completeness of the information provided. We reserve the right to make changes without notice or to amend the information. Only the specific service offer or the booking confirmation is binding. For external links we can – despite careful control – assume no liability. For the content of linked pages exclusively their operators are responsible.
Data protection

For the purposes of the GDPR, we inform you that your data will be used and saved exclusively for processing your application and will not be disclosed or distributed to third parties. Regarding data processing, you are entitled to all rights according to the GDPR. The holder of the rights is Franz Oberhofer – For more information about your rights, please visit here .
Please note

We specifically refer to the legal provisions Art. 45-67 of the Italian Consumer Protection Code 206/2005.